IMUS REMOTE PICS

Welcome! Imus in the Moooorning!
JOIN US IN THE DON IMUS OFFICIAL CHAT 6-10 am EDT on MSNBC
Your chat quotes may make it on the air on the Don Imus Show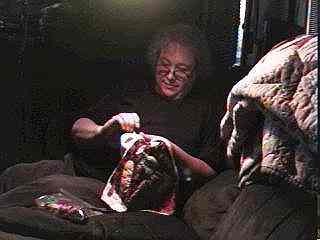 Click pic for quilt pics
Here is Janet, my loving life's mate for 16 years. She's great!
We are located in the Central Catskill region of New York State, where we live in a cabin Adam and I constructed. We have 16 fenced acres of woods, streams, springs,and meadows. Wildlife abounds..deer, rabbit, squirrel, turkey...and it's not unusual to see several whitetails and turkeys together just a few yards from the door.
In fact, on opening day of deer season last year, Janet shot a buck in her bathrobe from the front porch steps. How the buck got in her bathrobe, I'll never know...(groan, I know..its soo old~)
Gang, its always a blast for me to play radio on the computer with all the fine Don Imus cohorts in the MSNBC chat .and we are looking forward to trading pics, gags, and anecdotes with you every day.
Thanks for taking a peek-ski at my page, please let me know what your thoughts are.
The Catskill Kid and Company: Don Janet Alexandra,Adam
David, Michael, Andrew, Douglas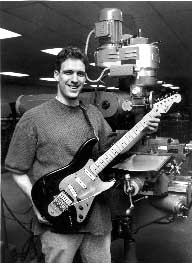 Adam the Musical Machinist
And this tall lad is Adam, holding one of our conversion guitars in front of what he calls "The Iron Maiden", a vertical milling machine.
He is also a skilled machinist who makes parts for the Space Station 2000 project (NASA) and he also mills all the metal parts on our guitars.
Adam also is an acoustic and electric blues guitarist, he writes, sings, and plays the blues harp and piano as well.
Our thanks to our fine son David for his considerable help getting this site up and running!Thanks also to my lovely daughter, Alexandra, for her graphics design and assistance. Love you, guys!
"Keep your eyes open and your knees loose, gang...Excelsior!" --Jean Shepherd -


-
Please sign our guestbook
WE ARE AN AIR FORCE FAMILY
Way to go.. Alex and Adam.
Keep 'em flying, kids Salute Dec 16 l999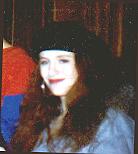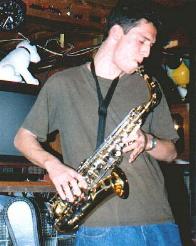 David and Alex BluezBlazer Plays a Fine Guitar, too! Click Here to listen!
DAVE THE BLUESMASTER'S HOMEPAGE